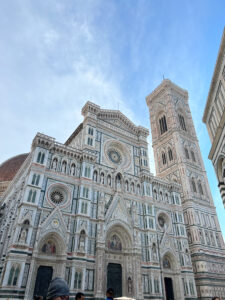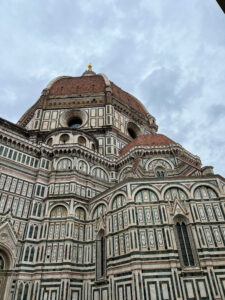 I'd been to Florence twice before, but this trip felt like the first time that I really experienced it. My previous visits were both a decade ago when I was chaperoning high school students on weekend trips. I escorted a group of them to see the Statue of David and then watched as some of them bought jackets in the leather market that cost as much as my monthly budget. We rushed through the Uffizi and took photos at the Ponte Vecchio, and though I remember the city being beautiful, I didn't get to experience much more than those rushed, and now blurry, glimpses. I'd never been able to freely wander the city before, but it didn't take me long to understand why Florence is so many people's favorite city in Italy.
I stayed in the gorgeous Ostello Bello Hostel near the train station that had facilities nicer than many hotels. From there, I could walk to the center of the city in 5 minutes. In Florence, I didn't really have an agenda. My goal was mostly to wander in the way I hadn't gotten to before and not to worry about the top tourist sights I'd already seen.
I ate my favorite lunch in Florence at Brac, which is half-restaurant, half-bookstore and serves a combination of traditional Italian dishes and creative dishes with flavors you wouldn't expect. I had tortelloni with ginger, cumin, and potato, and even though the elegant décor and presentation make you feel like you're eating something outside of your price range, the meal comes with a free surprise side and costs like $10. I would eat there for every meal.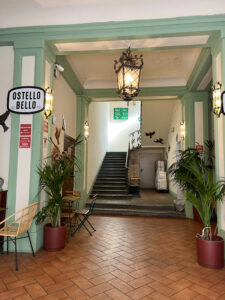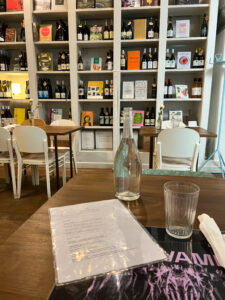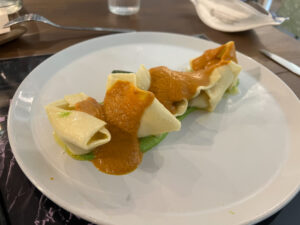 A rainy day didn't stop me from taking a walking tour so I could learn all about the Medici family and the Renaissance artists who lived in Florence (like Michelangelo, Da Vinci, Botticelli, and Dante) and paved the way for what art would become. My favorite thing I learned about Florence is about the dome of the famous Cathedral of Santa Maria del Fiore (the Duomo). The man who designed it wasn't an architect or engineer—he was a jeweler who supposedly won a competition to be the designer. He was so secretive about his plans and afraid of someone copying them that after the dome was finished, he destroyed all the blueprints. Today, architects and engineers STILL don't understand how the dome is standing. People have tried to recreate a dome this size with the same materials, and no one has been able to. It's like this wonder of architecture that scientifically shouldn't exist but does. Can you think of a more perfect symbol of a city than that?
For a few days in Florence, I ate ribollita and ragu and pastries, and I wrote in tiny cafes. I tried to overcome my lifelong fear of Pinocchio by browsing the countless handmade and adorable/terrifying Pinocchio trinkets. (The author lived and wrote in a nearby town.) The Basilica of Santa Croce had been my favorite place I'd visited in Florence a decade ago, and I went back this time to see the tombs of Michelangelo, Galileo, Machiavelli, and Rossini.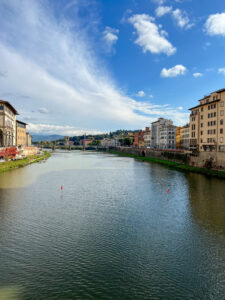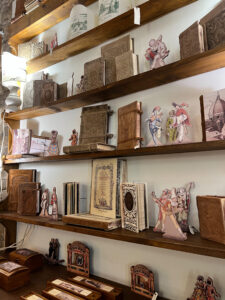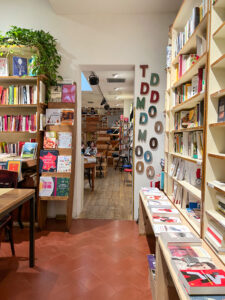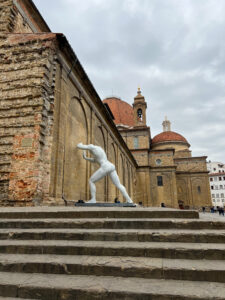 And then I decided to embark on a day trip to see more of Tuscany. This did not go as smoothly as I'd hoped. Though Florence is surrounded by gorgeous Tuscan villages, transportation to them is not very convenient unless you rent a car. Many people take an organized tour to get to the towns, but these are pricey and don't allow much free time for exploring. I decided public transportation was the right choice. I took an hour-long train ride to Siena and caught a bus from there to the popular village of San Gimignano. It was hard to choose a town, but San Gimignano is perhaps the most touristy of the small Tuscan towns, and I thought this might mean that more shops and restaurants would stay open during the off season. Everything was going fine until halfway through my bus ride when an officer got on the bus to check our tickets, and I was informed that I hadn't validated mine. I was bewildered and embarrassed. I thought purchasing my ticket in person at the station did, in fact, make it valid, or perhaps that an officer or ticket collector like this one would validate the ticket for passengers. I'd had to validate many tickets throughout Europe, but these were usually metro tickets that didn't have dates printed on them when I purchased them from kiosks. It hadn't occurred to me that the bus ticket I'd purchased was a ticket that one could, in theory, plot to not validate and therefore use multiple times. When I'd worked in Italy a decade before, I had a month-long transit card that meant I never had to purchase individual tickets or think about validating them. I just hadn't known, and I hadn't known that I hadn't known. There were only two other tourists on the bus, and of course, they hadn't known either. We were all fined $60, about 10 times the price of the ticket itself. And though it was upsetting, it was at least a lesson learned. The fine could have been far higher if it had happened on another route. And this kind of thing reminded me to feel compassionate toward guests back home who may be innocently unaware of things that seem silly and obvious to those of us who do them every day.
San Gimignano ended up being mostly closed for the season, but it was gorgeous in its emptiness. It's a small medieval hill town with views over the Tuscan countryside full of olive trees and distant vineyards. The shops that were open sold Christmas ornaments and delicate ceramics that I wished I could bring home with me. When leaving the town, the bus ticket booth was closed with the blinds pulled down and a sign on the window. The very kind bus driver got off the bus, walked with me to the ticket booth, and spent some time banging on the back door to wake up the worker hiding/napping inside so I could purchase a ticket. (He was also kind enough to validate it for me so that there was absolutely no chance of confusion.)
I spent a little while in beautiful Siena before catching my train back to Florence, and I remembered visiting the town the first time as a chaperone a decade ago and the awe I felt the first time I saw the Piazza del Campo where the Palio horse race takes place twice a year. Seeing it a second time was no less stunning.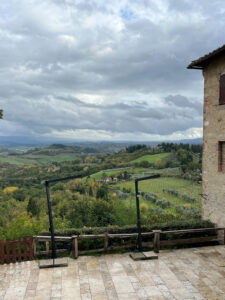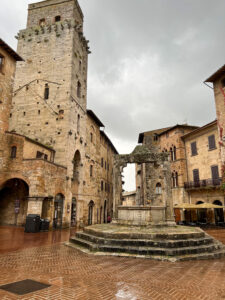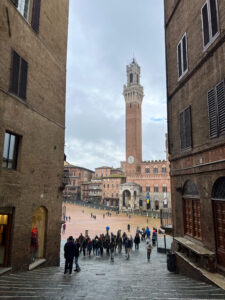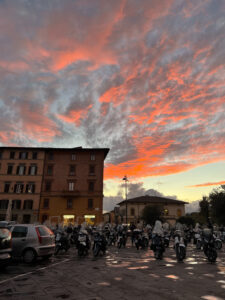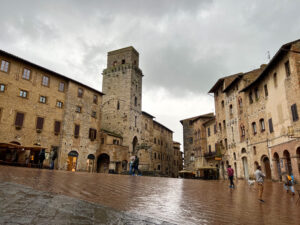 After 3 days in Tuscany, I left Florence to head to a town that I hadn't visited before and didn't know very much about—Orvieto. And again, my journey didn't go smoothly. I was supposed to take the train from the center of Florence just one stop (which should have taken five minutes) and then get on a different train that would take me straight to Orvieto. But as our train pulled into the station where I was supposed to have my layover, the doors wouldn't open. I assumed the train was still in the process of stopping and that the doors would open any minute. But no, the train took off without the doors ever opening. Turns out they were broken and the doors in all the other cars had worked. A team of train personnel tried to assist me, but there was really not much they could do. The best option was for me to get off at the next stop 20 minutes later, catch the first train back to Florence, and then catch the next train to Orvieto since I'd miss my original one. I got off at the next stop, waited 40 minutes for a train back to Florence, and had to sprint to make it onto the next Orvieto train. I was the last one on the train before it started moving, and I lost about 3 hours and $25 because of it. But Orvieto ended up being far too perfect for it to ruin my day.
From the Orvieto station, I took the short funicular to get to the top off the hill (which I found out later is actually a volcanic rock) where the town sits. In Orvieto, I stayed in my final private room of my journey, and for this special occasion, I made my biggest accommodation splurge of the entire trip (It was $78.). I will never understand how they are only charging people $78 for rooms as beautiful as this one and with a balcony view that people would undoubtedly pay hundreds for. I only spent a night there, but I wanted to stay for months.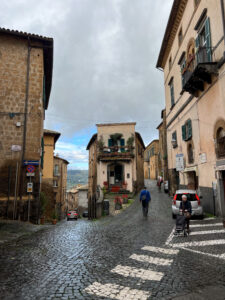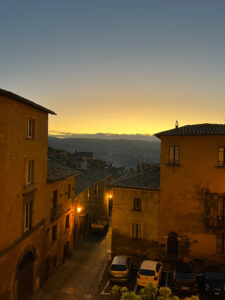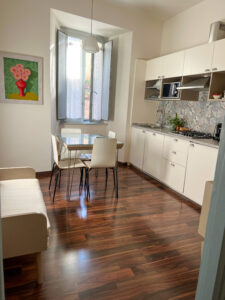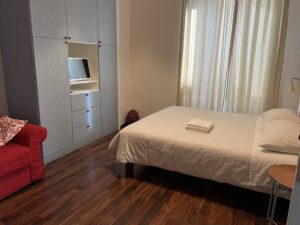 Orvieto was everything I hoped that small-town Italy would be. It's in the Italian region of Umbria which sits alongside Tuscany (where Florence is) and Lazio (where Rome is). It's a bit less of a tourist town than some of the Tuscan villages that are often part of the tour bus routes. Though plenty tourists visit Orvieto, the majority of people there are locals. The Cathedral in town is one of the more shocking things I've ever seen. You're wandering around these little winding, humble streets barely large enough for a car to fit and you go around a corner and all of a sudden, there's one of the largest and grandest churches you've ever seen in your life, entirely out of place in the quaint square. The Cathedral was built in the late 1200s and finished in the 1500s. It's considered one of the most magnificent churches in Italy, and the frescoes were very influential for Michelangelo when he was painting the Sistine Chapel. The entire town sits atop this volcanic hill, and so from afar, it looks like the Cathedral is perched on a giant pedestal. The inside of the church is striped with black and white marble and dozens of detailed statues depicting Biblical characters. The church alone is entirely worth the hour-long train ride from Rome.
Across the square from the Cathedral is a beautiful little museum about the Etruscan history of the town dating back to the 9th century BCE. At the edge of the square, you come to a cliff drop-off with a stomach-dropping view of the Umbrian countryside. If you walk 7 or 8 minutes in the opposite direction, you'll come to the other side of the hilltop and see an equally gorgeous view—360 degrees of opportunity for perfect sunrise and sunset views.
I ate ragu with wild boar sauce at a small Trattoria where I think I was the only non-Italian person in the building and where everyone knew everyone else, and I ate gelato on my balcony as I watched the sun set. Though I only spent a day and a night in Orvieto, it's one of the places I most often dream about returning to. The next morning, I headed back down the funicular to catch my train to Rome.