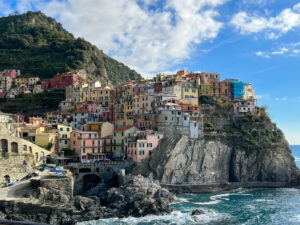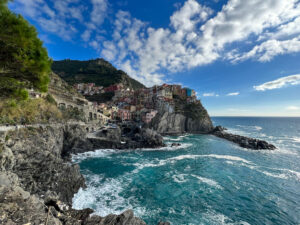 When I started planning the itinerary for my mom's visit to Italy, I thought I would leave Cinque Terre out. She knew she wanted to see a seaside town, and at first I was torn between the Amalfi Coast and Cinque Terre. (Who could ever pick which is more beautiful?) But then I read several blogs and articles about how practically everything closes in Cinque Terre in the off-season and how rain and mudslides are frequent in November. I had been to Sorrento years ago and knew that it was large enough that it wouldn't entirely shut down in the off season, plus it would require less walking than Cinque Terre which was ideal because of the neuropathy my mom has in her feet. So I booked us a couple nights in Sorrento. But after visiting Cinque Terre in August, I couldn't imagine her flying all the way to Italy and not seeing Cinque Terre. I took a risk, canceled our Sorrento reservations, and reserved a room in Riomaggiore instead.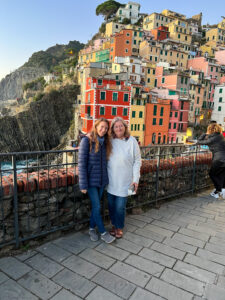 We took a 4-hour train ride from Rome to La Spezia (where I stayed in the beautiful Costello Hostel in the summer) and caught the local train the few more minutes to Riomaggiore, one of the 5 villages that make up Cinque Terre. Our Airbnb host, Nico, met us at the station. He was the absolute kindest and most personable soul. The apartment was at the top of a large and steep hill—a necessarily challenge when visiting Cinque Terre. It's truly not an ideal destination for anyone with mobility difficulties, but my mom and I discussed what to expect beforehand and were determined to make it work. Nico helped carry our bags, and I convinced him that we should go ahead so my mom could follow at her own pace and take breaks without feeling like we were waiting on her. I feel like this excessively kind man would have carried her up the hill himself if we'd let him. And my mom managed the hills just fine—we just tried to limit trips back and forth to our room.
Nico had upgraded our apartment for us. I booked the smaller (and cheaper) of his two properties, but he messaged me a few days before our stay and asked if I would prefer the larger property at no extra cost since it happened to be available and the heating system worked better there. We paid $88 per night for the apartment, and as of right now, the same apartment in the summer is $171. (Though it would be worth that price, this is the reason you should always try to avoid traveling in the summer.)
The apartment has the best rating and reviews I think I've ever seen on Airbnb (a 4.99 out of 5 with 528 reviews), and it absolutely deserved it. It was a studio with exposed wooden ceiling beams and a view of Riomaggiore's main street. In the fridge was a bottle of wine that Nico and his wife's family make at their nearby vineyard.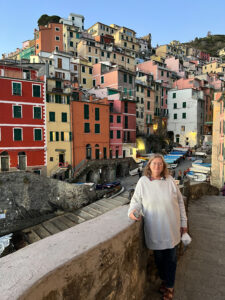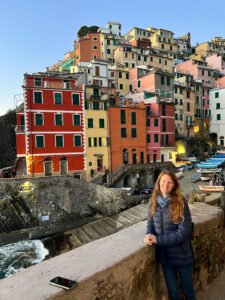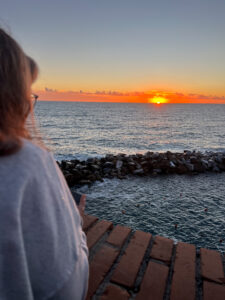 Down the hill, we watched the sun set over the Mediterranean. The setting sun turned the colors of the buildings a deeper rust, pink, and gold. The crowds I saw watching the sunset there in the summer were gone. In the summer, I took a ferry between the villages and watched tiny sailboats floating off the shore, but the water in late November looked like no boat could survive it. The small boats had all been pulled onto the loading ramp and stacked for winter. The waves crashed high over the rocks. It was a rougher and wilder version of Riomaggiore, and in a way, that made it even more beautiful.
We lingered after sunset for a while, waiting for the few dinner restaurants in town that hadn't closed for the entire winter season to open. As we waited, a local man stopped to chat. He looked weathered and wise. He told us about how he used to work on ships that sailed from Italy to Australia and all around the world. I wonder what it's been like for people like him who have spent their whole lives in these villages to watch the world discover their home over the past couple decades and to all-of-a-sudden have to share it. I imagine that if it were me, I'd hate it. I might resent tourists and feel bitter if I stayed at all. But the elderly people I spoke with in Cinque Terre seemed warm, welcoming, and excited by my excitement. Maybe it's gratifying to feel like others view your home with such wonder and awe.
The blog posts I'd read that warned me the entire city would be shut down in November were not entirely right—there were not a ton of restaurants or shops options, but there were enough, and having the entire place to ourselves made the limited options worth it. We ate pasta at a restaurant that had an outdoor structure set up with walls and heaters, and still we were shivering in our big coats. There were only a couple other families who showed up to eat. It felt like we were the only people in town.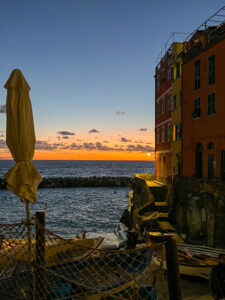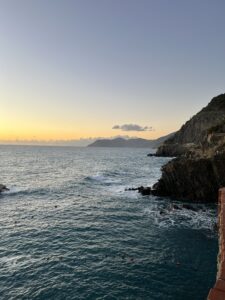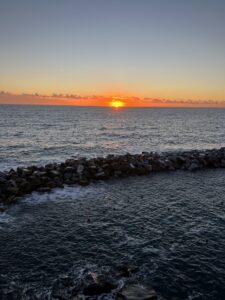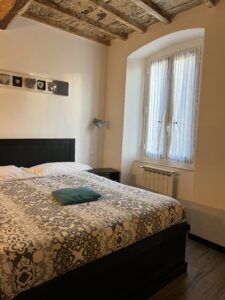 The next day was Thanksgiving. We bought day passes for the train and visited the other villages. We started in Vernazza because it was the first of the villages that I saw during my visit in the summer, and I remembered how beautiful the morning light looked hitting the water off the little town square. Then we headed to Monterosso where we shared a slice of remarkable torte della nonna (which means "grandmother's cake") for breakfast because in Italy, why would you not eat cake for breakfast? The train schedule allowed us about an hour in each village—plenty of time for my mom to dip her toes in the Mediterranean for the first time after our cake and accidentally get her jeans wet nearly to her knee when a wave came. Though I adore Corniglia, we skipped it because the train station is far from the village, and we heard the bus between the station and the village might not be operating on normal hours. We headed instead to Manarola for the most iconic view in all of Cinque Terre. Though I'd seen it before, I still marveled at how it was possible for it to look even more beautiful than the photos. And then we headed back to Riomaggiore where we got a Thanksgiving lunch of fried fish and veggies in cones.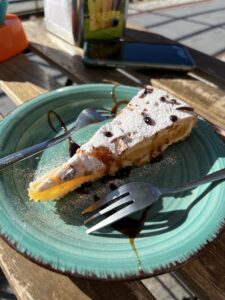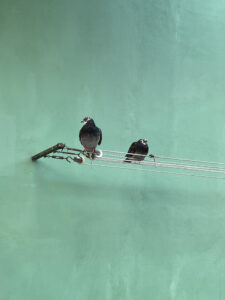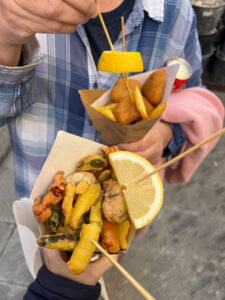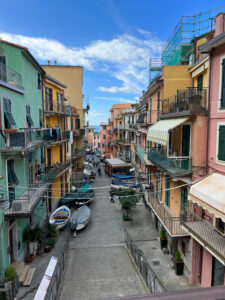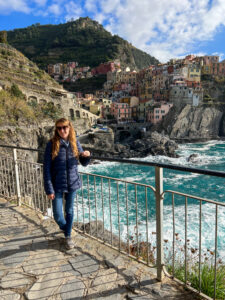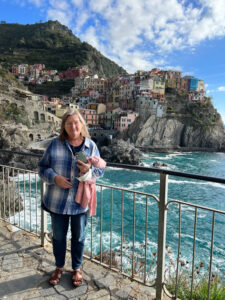 We took an evening train to Florence and got there after dark. In Florence, we stayed in my mom's first-ever hostel. It was a less-than-impressive hostel and felt a little sterile, like maybe we were sleeping in a hospital. But even so, I think my mom was surprised. There's such a stereotype people have in their minds of what they imagine a hostel will be, and even though my mom knew I was only booking us private rooms, I think it still felt surprising for her to see that our room was indistinguishable from a simple hotel room with two beds and a private bathroom. Now she'll encourage anyone who wants to travel on a budget in Europe to look at hostels. (In Florence, I give my highest recommendation to Ostello Bello which is more expensive than where I stayed with my mom for a private room, but is entirely worth it. It's where I stayed when I was there solo.)
That night, we ate our Thanksgiving dinner at the first restaurant we found, Trattoria Vecchio Mercato, where my mom declared her lasagna the best lasagna of the whole trip. We spent our full day in Florence the next day exploring downtown. We wandered around the leather markets and ate lunch at my favorite place I discovered on my solo visit—Brac. I took her to see the Ponte Vecchio and the Duomo. And when we went to visit Santa Croce, we stumbled upon a wonderful surprise that popped up in the week since I'd been there last—our first Christmas market of the trip in the big square in front of the church. It wasn't very big, but we were delighted and wandered up and down the rows of booths in the rain buying treats to eat for dessert. The next morning, we headed to our final stop of the Italian portion of our trip—Venice.