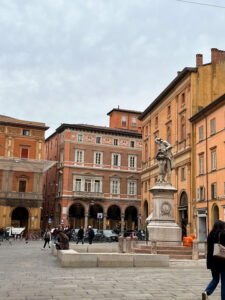 There was a brief time when I thought I might study abroad in Bologna, Italy. My university held a summer program in Bologna each summer, and for a while, it seemed crucial that I find a way to do it. Before starting college, I was 100% certain that I'd study abroad. I dreamed of spending a semester, or even a year, wandering the streets of some European city (in my imagination, it was always in Italy). And then I got into Brown University, my dream school, and suddenly the thought of spending even one semester of the precious 8 I'd been gifted there felt absurd to consider. So I decided I'd do a summer abroad program instead. The problem with summer abroad programs is that they are very, very expensive. Semester programs cost, in theory, no more than you'd pay at your regular university because you're still paying your school's tuition and receiving the same amount of financial aid that you would at home, but summer school is an optional choice and financial aid barely covers anything. I went to the financial aid office at my school and asked if there was any possibility of receiving more financial aid for the summer program. And there really wasn't.
I'd like to note that Brown is very generous with their need-based aid, so this is not a criticism! My tuition at Brown was covered by need-based grants, and their financial aid package has only improved since then. It's just that summer study fell outside of the realm of what aid could really help me do. If I remember correctly, the program was either 3 weeks or a month long and cost roughly the same amount that I spent in about 4 months in Europe (and did not include airfare). There was no way I could afford to do it. I stalked Facebook photos of the classmates I knew who went on the program and felt so jealous I could burst. And I vowed then that I'd get there another way.
And so I did. Last November, almost 12 years after not going on the study abroad program, I finally arrived on the train in Bologna.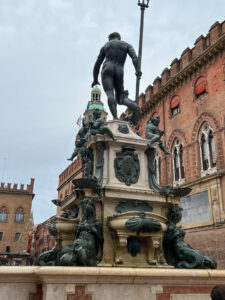 Bologna is famous for a lot of things—its university, its vibrant culture, and perhaps most important of all, its food. It's only about 45 minutes on the fastest train from Florence and about 1.5 hours from Venice, so a lot of people visit on a daytrip. If you're short on time, it's definitely worth a day trip, but if you have time to spare, it's worth staying for a while.
In most hostels where I stayed in shared dorm rooms, I opted for a female only room. This was less about safety and more because female-only rooms tend to be a little cleaner and guys tend to snore louder. (I'm sorry, but this is a fact.) In my hostel in Bologna (Nosadillo Hostel), the female-only room was full, so I ended up in a room with several new pals who I would not have met otherwise. There was a sports journalist who was in Bologna to cover an important soccer game. When he's sent on assignment, he elects to stay for a few nights in hostels because he loves meeting people. There was a university student who was interning in Albania for the semester and came to Italy for a long weekend. And there was a guy from Turkey in town for his job who told me that he dreams of his wife being able to travel with him one day. He always brings her souvenirs back from his trips and tells her what to look forward to when they can travel together in the future. Everyone was excessively kind.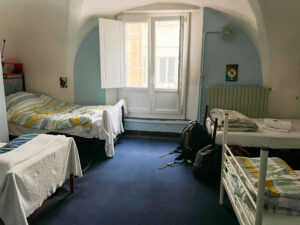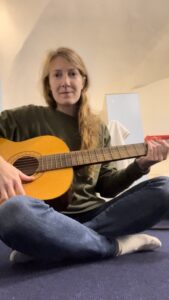 On my first day, I did a tour of the city to learn more about the history. I learned that Bologna is nicknamed the Red City because of its red tiled roofs, but also more recently because of its leftist politics. Because of the university, the population of the city is very young and international, and therefore more liberal than most of Italy. It was one of the most crowded cities I'd visited since summer ended, but it wasn't because it was full of tourists—it was just the fall-semester university crowds which keep the city lively year-round. The city is small enough that its entirely walkable, and narrow streets are lined with enough restaurants, clothing stores, bookshops, and art shops to keep a person occupied for months. Unlike Verona, Bologna felt like an Italy I was familiar with.
The University of Bologna (where Brown had the study abroad program) is the oldest university in Europe, and some claim it's the oldest in the world. (There's some debate about it being the oldest in the world because the University of Al-Qarawiyyin in Fez, Morocco, was established earlier in 859 AD, BUT it was first founded as a mosque before becoming an educational center. The University of Bologna was established in 1088 AD which is about 1000 years older than I can comprehend. What's not disputed is that it was the first ever degree-awarding institution of higher education.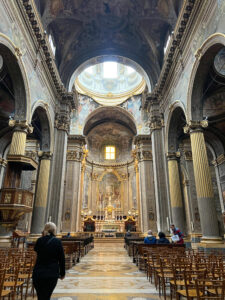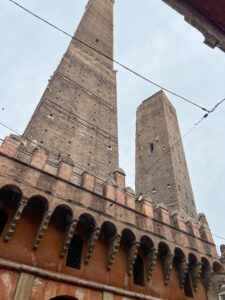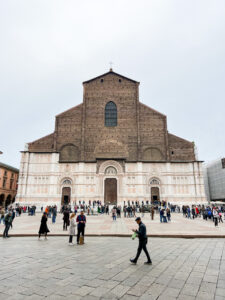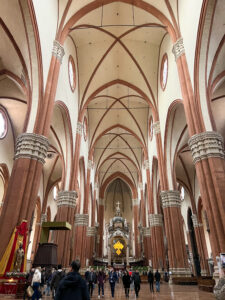 In the old medical school, you can pay a small fee to visit the Anatomical Theater of Archiginnasio. An anatomical theater is a room where medical students used to observe the dissection of human and animal bodies. The seats surround the center table where the cadaver would lay. The theater was nearly destroyed in WWII, but it was carefully reconstructed with the original materials to look as it did when it was built. In the 17th century, the human cadavers in Bologna were dissected by candlelight. Surgeons would consult the stars before they performed surgeries, so the ceiling is decorated with astrological symbols. The room is gorgeous and only slightly creepy, and it made me feel like I was either in Hogwarts or in a secret society meeting in Leigh Bardugo's Ninth House series.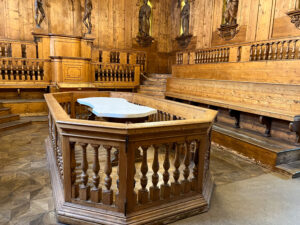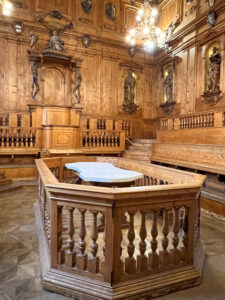 I spent 3 nights in Bolgona, and my main priority for the whole stay was to eat every delicious thing in sight. Bologna is known for its Bolognese sauce, lasagna, tagliatelle al ragu, and mortadella. I heard that one of the best restaurants in town was a small place called Sfoglia Rina, and I it took me 3 tries before the line was short enough for me to get inside. But trust me when I tell you that it wasn't overhyped—it's just small and they don't take reservations. It was truly worth the line(s). They brought me the menu on a hand-written chalkboard, and all pastas cost $11 or less and included a side. Of all the pastas I ate in Bologna, that one was easily the best. In between meals, I got small pastries from famous bakeries and really exhibited a shameful level of gluttony, and I highly recommend this choice. But something I learned in Bologna is that even though the city is known for having the best food in Italy, it didn't really surpass the food in Florence or Rome for me. And that's not to say that I was unimpressed with the food in Bologna (I was very impressed)—it's more to assure you that no matter where you go in Italy, you will have remarkable food available to you.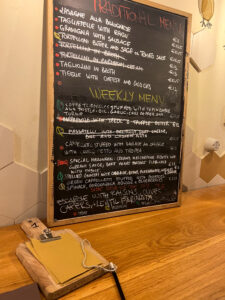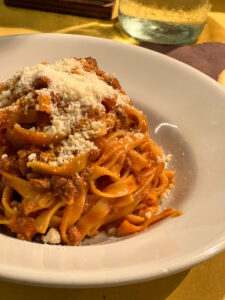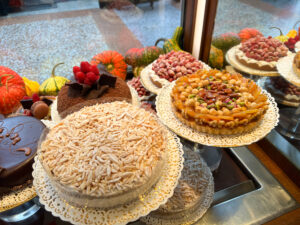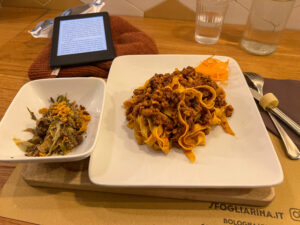 As I wandered around the university section of the city, I thought about what it might have been like if I'd been able to study abroad there. And there's really no part of me that doesn't prefer the way things worked out instead. Since I didn't get to study abroad, I had to find a different path to Italy (more about that in a couple of blog posts), and that journey led to every job and opportunity I've had since. Today I work for a company that sends students on study abroad and exchange programs, and I think differently about what that opportunity means and who it's available for. I'd rather spend the same amount of money to travel solo for 4 times as long every time.