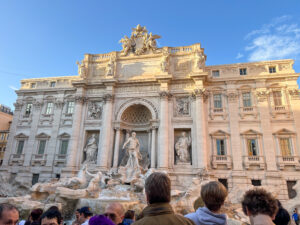 When I was growing up in rural Mississippi, one of my most desperate wishes was to travel. For as long as I can remember, visiting Rome was the ultimate dream. I was obsessed with it. In my previous post about Bologna, I wrote about how I hoped I'd get to travel abroad for the first time on a summer study abroad program in college. My university hosted a summer program in Bologna every summer, but it was far more expensive than my family could afford. After a lot of research, I found a summer program hosted by a different university that cost less and offered financial aid. It was still a lot of money for my family, but an amount that was challenging rather than impossible, and they were as eager for me to live this dream as I was. The program was in Venice instead of Rome, but anywhere in Italy sounded perfect to me, so I applied to the program in fall of my junior year thinking that my dream might finally come true. But then that January, my dad had a massive heart attack that he very nearly didn't survive, and all of our lives immediately changed.
My dad was in a coma in the ICU for 4 days, and the doctor's told us that he may not wake up. It's a blur now, but I think it was in that ICU waiting room that I got the official acceptance letter for the summer program. Of course it was the last thing on my mind—I knew I wouldn't be going anywhere. On the 4th day, my dad defied all the odds and woke up. Don't worry, today, 12 years later, he's perfectly fine! But his recovery was slow and uncertain at first. Even after we knew that my dad would be okay, I knew that my parents wouldn't financially be able to help me afford the program anymore, and I rescinded my application.
And then there was a miracle that still doesn't feel real to me even now. When I was looking for summer abroad programs, I also sent a few emails to international high schools in Italy enquiring about summer job opportunities as a cheaper alternative to studying abroad. I had no expectation whatsoever that I'd hear back from any of them—I'd never had a job before, never traveled abroad, and had studied Italian for only one semester (which I passed, but it was a real struggle). But somehow, I got a reply from a woman in charge of summer programs at an international boarding school in Rome. I didn't even know at the time that my college had a partnership with the high school and helped host one of their summer programs. There hadn't been a job opening or an application—I'd just sent an email asking if they ever had openings for Resident Assistants. She told me to send a resume and cover letter, and a few days later, her next email told me I was hired. There was no video call before she decided, no phone call, just that life-changing email. My room and board would be covered for 6 weeks, and I'd receive a small stipend. Somehow, impossibly, I'd be able to go.
I got my first passport and flew across the Atlantic for my first-ever job that summer. I was 21. I remember feeling like none of it was real, like I couldn't possibly be there seeing those things in person.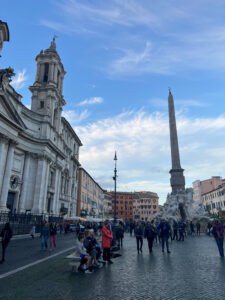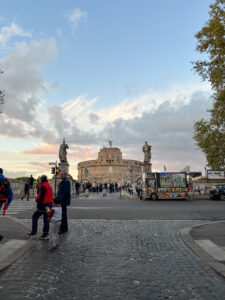 It is a dangerous thing to have such impossible expectations of a place. I remember feeling an almost-anticipatory disappointment before leaving for Italy the first time. Not disappointment in Italy, but disappointment in myself for elevating the idea of Rome so highly in my mind that the reality of it could surely never compare. But I shouldn't have been worried. Rome ended up surpassing my every expectation. I was obsessed with everything about the city. I couldn't imagine loving a place more.
That first summer in Rome was life-changing, and then I was asked to return again the next summer—another magical experience that started my career in education and ignited an ever-growing urge to continue traveling.
It had been ten years since I'd last been to Rome, and this time I worried that the nostalgia would be the thing to disappoint me. You can't come back to a place you once loved and find it, or yourself, unchanged.
I arrived in Rome in mid-November on the afternoon train from Orvieto. And at first, it did not feel like magical bliss. I was exhausted and stressed as our train pulled into Termini Station. I had just learned that my mom was sick with a fever and cough. She was supposed to be getting on a plane to come meet me the following day, but she'd woken up feeling sick the previous morning and had only gotten sicker. She'd gone to the doctor, and he'd given her antibiotics and steroids for what he suspected was bronchitis, but she would have to decide to come or not before we knew for sure if the medicine would help. Plus, there was a snowstorm in Toronto where she was supposed to have her layover. To change her ticket without a fee, she'd have to do so 24 hours in advance, and we were nearing the 24-hour point as I arrived in Rome. We were both upset and stressed. I knew that my worry wouldn't make the situation better, and I tried to make the most of the day and a half I'd be in Rome solo before my mom (hopefully) arrived.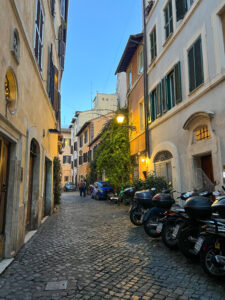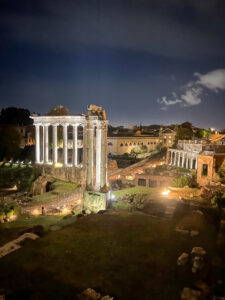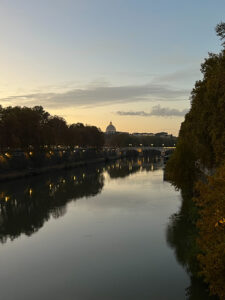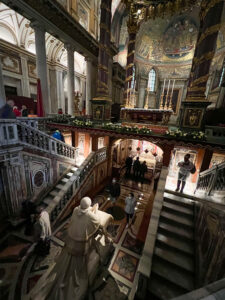 I dropped my bags off in my hostel and then started walking. As I walked, some of the stress melted away. It had been ten years, but my feet still knew exactly where to go. I walked past the Trevi Fountian, the Pantheon, the Piazza Navona, all the way to Trastevere. I'd only ever been to Rome in the summer, and this cooler and slightly less crowded version of Rome felt like something both new and familiar. I accidentally walked 13 miles. Ten years later, Rome was no less magical than it had been the first time I ever saw it. But as I expected, I was different. I could remember the awe I felt seeing these sights for the first time, but they held different meaning for me now. Recognizing the impact the city had on me all those years ago made me feel a different kind of awe and an appreciation that I could only have in retrospect. By the end of the day, my mom's fever was gone, and we decided to take the chance and not change her ticket.
In my hostel room, I met Jeremiah, and it took about ten minutes of conversation for me to tell that he was highly skilled at asking the right questions. My assumption was right—he was previously a counselor. We shared stories about our lives and bonded over our love for Rome. During the summers when I worked in Rome, the students assumed me to be a sort of authority and guide. I don't think that it occurred to many of them that I had never set foot in Rome until about 2 days before they had, but I took on the responsibility fearlessly. This was before everyone had smart phones, so I memorized maps of the city and led groups on excursions during free time, counting students as I herded them on public buses and the metro system, passing out tickets at the Villa Borghese. I had never been in the city as just a visitor before, never met others who were there to explore instead of do a job.
The next day was the only solo day left of my trip. I planned to take the metro to The Basilica of St. Paul Outside the Walls—a major Basilica that doesn't get very much foot traffic due to being so far from the center of town and that I'd somehow never visited before. Ten years before, I told myself that I wouldn't leave Rome the next time without seeing it. Instead of taking the metro, I ended up walking the entire way by accident. I planned to walk through the Monti neighborhood and then through the Aventine Hill neighborhood where I spent those summers living. But then I kept walking, past the Protestant Cemetery, where John Keats and Percey Shelley are buried, and through Testaccio, where I ate street food at Trapizzino. It rained on me on and off, and I just kept walking. I walked the entire 4 miles there. St. Paul's is stunning inside, and I was nearly the only person there. It was so empty that I couldn't tell which side was the entrance at first because I saw no one else entering. It's shocking that it gets relatively few visitors when compared to some of the other churches in the city because it's one of the 4 major churches (or Papal Basilicas) in Rome. Papal Basilicas are the highest-ranked Catholic churches in the world. (There are 6 total—4 in Rome and 2 in nearby Assisi.) Saint Paul's was built by Constantine and is the 2nd largest church in the city. Standing in that massive and empty sanctuary with organ music echoing around me felt overwhelming.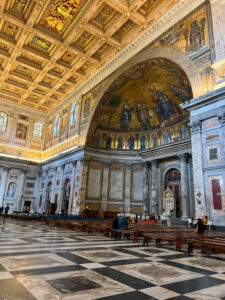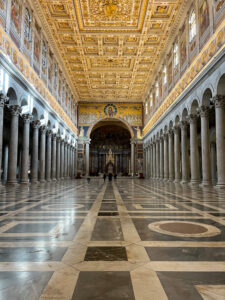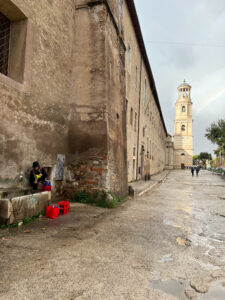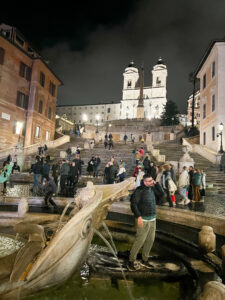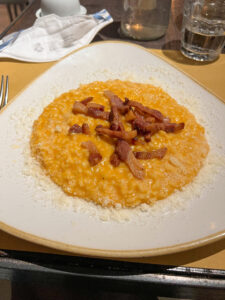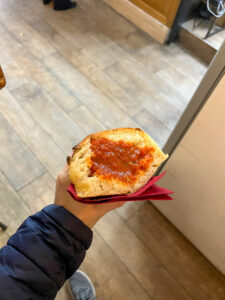 I took the metro back into town, wandered aimlessly through the rain for a few more hours, and ended up eating dinner in the Piazza di Spagna neighborhood at a restaurant that served me a pumpkin risotto with melt-in-your-mouth pancetta that tasted like November. There were a couple of American girls in their early 20s at the table next to me. They talked about where they would go for drinks that night, what they'd wear, what guys they'd call to invite and the ones they wouldn't call because of whatever awkward thing ensued last time. It was clear to me that they were in Rome on a study abroad program. I thought about how differently things would have gone if I'd gone on the study abroad program like I'd intended and never gotten the job in Rome. What path would my life had taken? Listening to them made me feel certain that things worked out exactly as they were supposed to.
By the time I got back to the hostel, my shoes were soaked through and my jeans were wet up to my knees from trudging around in the rain all day. I'd walked 14 miles. Jeremiah, one of our other roommates from South America, and I ended up talking for hours—the kind of rare conversation you find yourself in where you forget these people were strangers to you 3 hours ago. By the time I went to sleep, my mom was heading toward me on the plane.