Ever since my first visit to Rome over a decade ago, I'd tried to convince my mom to visit Italy with me because I knew how much she'd love it. My mom grew up in rural Mississippi (where she still lives) and had never had a passport or left the United States. Traveling overseas felt so far from her reality. For years, I tried to assure her that it didn't have to be as expensive as she assumed, but money always felt like an insurmountable obstacle, and she never felt like she could take the time off work. It was always a "We'll see, maybe one day" for her.
I already had a plane ticket purchased for my trip when my mom was diagnosed with cancer in the summer of 2021. I ended up delaying my trip for a year while she went through treatment. She tried to insist that I not delay my trip, but I knew there was no way I'd leave while she was still sick. To encourage her, I told her that once she was better, she could come travel with me.
Exactly a year after her diagnosis, she was in the hospital recovering from her final successful surgery. The doctor had declared her cancer-free a few months prior, and I was set to leave for my trip a few weeks later. In the hospital room, she told me that she'd been thinking about it and that she'd decided she would come to Italy and meet me at the end of my trip. A diagnosis like that can really change your perspective on things like money, work, and priorities. It did for both of us.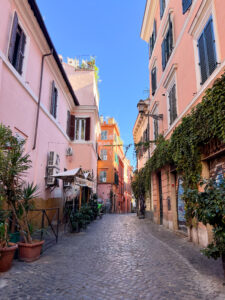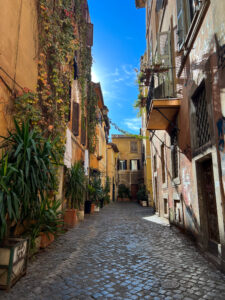 I walked her through applying for her first passport from Europe, and I picked her flight and devised our itinerary. (I'd like to point out that my dad was invited, too, but he's not a huge travel enthusiast, so he was happy to bring my mom to the airport and cheer her on from home.) Two days before her flight, she woke up with a fever and a terrible cough, but she would not be deterred. She went to the doctor and told him that she had to get to Europe, and he gave her antibiotics and steroid pills and told her she couldn't miss a trip like that. There was a blizzard lingering over Toronto where her layover was, but we crossed our fingers and hoped all would be fine. And that November morning, I woke up early, packed and stored my bags in the hostel's luggage room, and took the train to meet my mom at the airport in Rome.
I found her in the arrival area, and she was as excited as if she hadn't seen me in 4.5 years instead of 4.5 months. I'd reserved us an Airbnb in Rome near the Colosseum, and I told my mom that I had a surprise to show her at our metro stop on the way to the Airbnb. The station name (Colosseo) somehow didn't give it away, and as we exited the metro station, she gasped, astonished to see the Colosseum directly in front of her. "That's it!!??" she kept saying, just as bewildered as I'd felt the first time I saw the Colosseum in person. She'd thought it would be out of town somewhere in an open area instead of in the middle of the city. Her awe never diminished, and neither did the joy her awe brought me.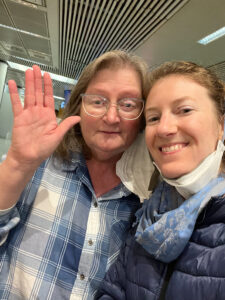 I left her to nap in the Airbnb while I went back to the hostel to get my luggage. She'd never experienced jetlag before, and I assumed she'd spend a lot of the first day napping. Instead, I think she had more energy than I did. In a way, it felt a little bittersweet to go pick up my luggage and officially leave the last hostel I stayed in as a solo-traveler. The majority of my trip had been solo, and my mom's arrival meant a new chapter of my trip and that I'd be going home soon. But the excitement I gained from having my mom join me more-than made up for any sadness I felt about the trip coming closer to its end.
Logistically, my mom and I had a lot of concerns before her trip about how it would go. She was still adjusting to her new diet after the surgery that removed 15 inches of her colon. Before her diagnosis, she already had some problems with arthritis, but after her cancer treatments, neuropathy in her feet had also become a huge problem that caused her a lot of pain and affected her mobility. We knew that I'd need to significantly adjust my usual pace, and we talked about how it would be fine if there were times when she needed to rest while I went and did some activities on my own. Getting to be in Europe at all would feel like a victory, so we kept our expectations low for how much we might try to walk and see each day. We decided that even if she couldn't walk much after the first few days, it would still have been worth it for her to come. She brought 4 pairs of shoes to swap between, determined to give herself the best chance for success. And we still don't know if it was due to her adrenaline and excitement about being there or because she was taking steroids for bronchitis when she arrived, but that first day, she ended up walking about 7 miles with me, and she averaged about that many miles every day for the rest of the trip. She never skipped out on a day or missed an activity she wanted to do. It was a miracle that we are still so thankful for.
That first night we walked through the Centro Storico (historic center) of Rome, past the Trevi Fountain, Pantheon, and Piazza Navona, and we ate pizza, suppli, fried zucchini blossoms, and fried olives in a restaurant where I first ate with a student group a decade earlier. There were Christmas lights covering storefronts, and it felt like winter for the first time.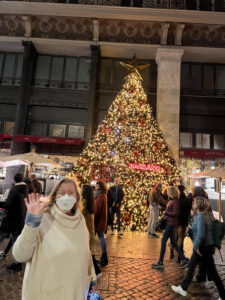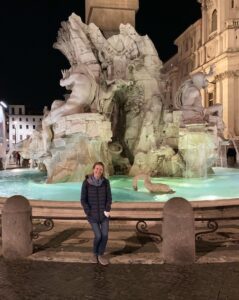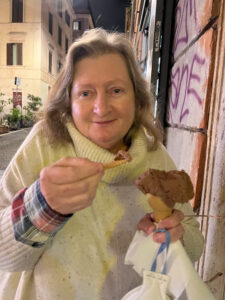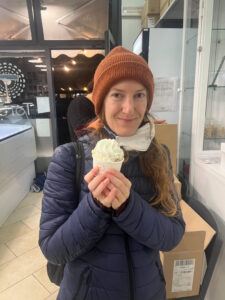 The next day, we explored the market at Campo de Fiori before I led my mom across the Tiber to Trastevere. In every church we visited, she marveled at every detail. "I can't believe I'm here," she kept saying at least once per hour. We ate meatballs, lasagna, and Roman-style artichoke in the Jewish Quarter—my mom's first time tasting so many authentic Italian dishes. And we didn't let the cold stop us from eating gelato more than once per day.
On our last day in Rome, we did a tour of the Vatican. On the way to meet our tour group, it stormed on us. It was the kind of downpour where there's no hope that your entire body won't be drenched for the rest of the day. The wind blew so hard that our umbrella inverted, and we both laughed so hard that we couldn't speak and had to gasp for air. Our tour guide ran around speaking in monotone, and we couldn't keep up with him on the slippery floors. We shuffled through the Sistine Chapel looking like half-drowned rats. But no rain or cold could make my mom's first glimpse inside St. Peter's Basilica anything less than magical.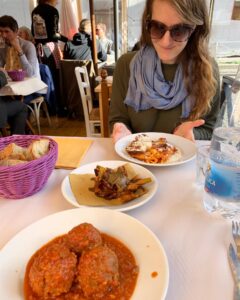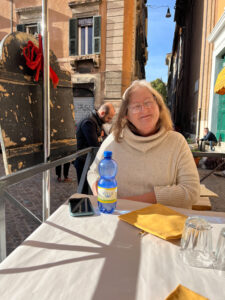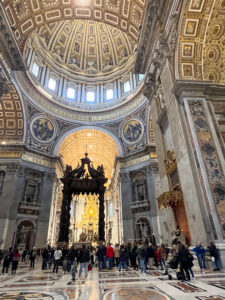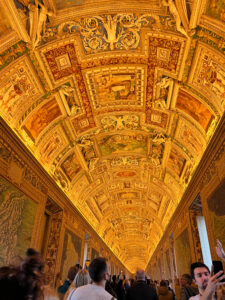 The magical spell was broken that evening when we arrived at the Colosseum an hour and a half before closing time only to learn that tickets were sold out for the day. I knew advanced tickets were necessary during the summer, but it hadn't occurred to me that we'd need them in mid-November. We were leaving the next day and wouldn't have time to tour the Colosseum before we left. But I refused to let it put a damper on our day, so we got on the train to head to the Trevi Fountain to do our ceremonial coin-throwing. I wrestled with our wet umbrella on the crowded metro, trying to close it and keep it away from other people. It was only a couple minutes after getting off the metro that I realized that while my hands were busy with the umbrella, a pickpocket had stolen my wallet from inside my day bag. I was furious with myself. I was so practiced at keeping a hand or arm across the front of my bag whenever I'm on public transportation that I practically considered myself immune to pickpockets. I felt humiliated and angry that I'd let my guard down for 20 seconds when I should have known better. I also felt a weird sense of betrayal that it happened in Rome. Not my beloved Rome, I thought. Anywhere but here! Which is, of course, absurd. It's just a likely that you'll be pickpocketed in New York City as in Rome, but I didn't want my mom's image of the city (or mine) to be tainted. I wanted her to know Rome as a place where everyone has perpetually kind and perfect intentions.
We went directly back to the Airbnb to make sure that I hadn't mistakenly left my wallet in the room, but no, it was gone. By the next morning, my spirits had improved about it. It could have happened to anyone in any city, and it could have been much worse. In my wallet that was stolen, I'd had some cash that I'd just gotten from an ATM, my license, and my debit card, but that had been all. I canceled my debit card as soon as my bank opened the next morning, and my bank reimbursed me for the money the thief had spent. I had no need for my license since I had my passport, and my mom had her debit card so we could still get cash. I'd had my credit cards and passport hidden in other bags, so they were safe. It was a lesson learned in how to ensure that it wouldn't happen again. And it did not taint my opinion of Rome.
We got up early the next morning and left the Airbnb. We stored our luggage near the train station and then detoured back to the Trevi Fountain so we could toss our ceremonial coins in like we'd intended to do the night before. Tossing a coin in the Trevi ensures good luck and that you'll return to the city one day, so we couldn't leave without doing it. We were about 2 minutes from missing our train when we got back to the station, but it was well worth it.