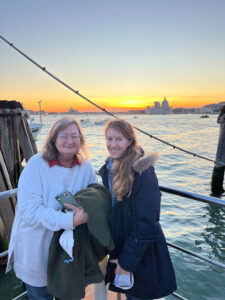 We took a high-speed train from Florence to Venice. I'd been through Venice twice on my trip before this and even wandered around the island once for a few hours in between train rides in August, but this was the first time I was spending any nights there since my first-ever European solo trip over a decade earlier.
After working in Rome the summer I was 21, I used every penny I earned to take a train to Venice and spend 4 nights in a hotel a couple blocks from St. Mark's Square—a place I'd dreamed of seeing all my life. It was August, full of crowds and humidity and restaurants that were closed for the summer holidays, and I would tell anyone today that August is a terrible time to visit Venice or anywhere in Italy. But those five days for me felt magical. I remember the sound of the church bells ringing from my tiny hotel room and how the city looked from the top of the bell tower at dusk. When I think about that trip, I marvel at my boldness. I had no smart phone, no GPS, and no internet unless I was sitting in my hotel room on my laptop. How did I have a clue where to go? But just like all the other first-time solo travelers, I figured it out and spent the days eating fruit cups with my legs dangling over the canal by the Rialto Bridge and giggling when the Italian waiter slipped me his phone number on a napkin even though he spoke no English and I spoke no Italian. This was the first place where I felt that solo travel brings out the best and bravest version of me.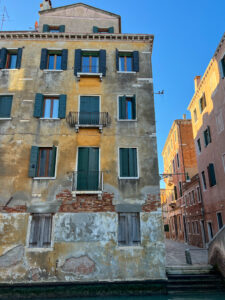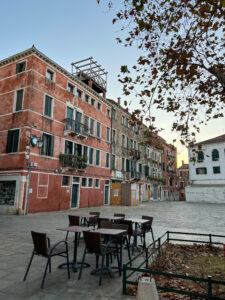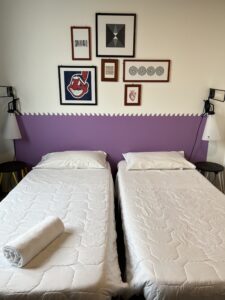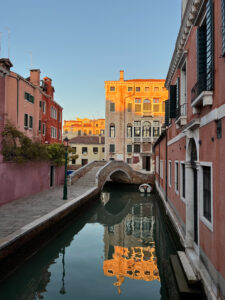 Everyone in the world has seen photos of Venice, but pictures can never make a person understand the experience of the city. This was one of the places I was most excited to show my mom. We stayed on the mainland because it was nearly half the price of staying on the island, but our hostel was 2 blocks from the train station, and the train runs constantly to and from the island and only takes 10 minutes, so our room couldn't have been more convenient. We stayed in the hip and modern Anda Hostel, which has a young and rowdy crowd, but the private rooms are on the upper floors, far from any party noises. From our window, we had a view of the Alps.
After checking in, we headed straight to the island, and the look on my mom's face as we walked out of the Santa Lucia Station and saw the boats docked at the Grand Canal in front of us was one of bewilderment and awe. She knew there weren't roads in Venice and that the canals act as the streets, but it's hard to make sense of until you're witnessing it. We walked all the way from the train station to St. Mark's Square, stopping for pizza and to buy souvenirs and little jars of tiramisu. Venice in late fall is a different city than Venice in Summer. The crowds are smaller, and the smell is different. The cold hits you as you walk through the town squares, before you seek the protection of the next alleyway. There are white string lights decorating the bars and restaurants surrounding St. Mark's. It's as enchanting as it is mysterious.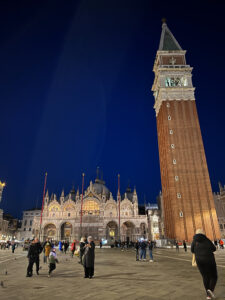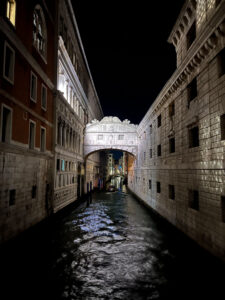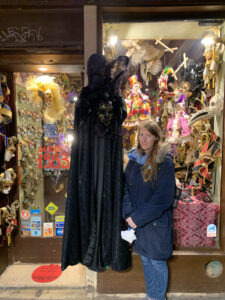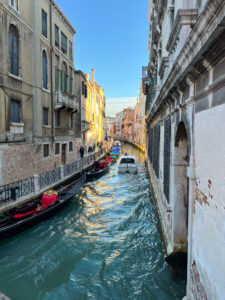 I've always found Venice to be an eerie place, and fall nights turn it into a haunted city full of shadows and reflections. I left my mom to explore the shopping around St. Mark's Square and went to do a ghost tour (which is a thing she'd hate). But I didn't need the guide's spooky stories to feel that I was walking through a labyrinth of old secrets. From the guide, I learned that there are still a lot of local people living in Venice. It's a city that suffers immensely from over-tourism, and I'd assumed that this meant many of the locals had been driven out by crowds and prices. And I'm sure it does mean that, but I didn't realize there's still a large local population left. He pointed out elementary schools and high schools and hospitals as we walked, and it's wild to think that there are people to whom this city is just regular life instead of a novelty.
After eating dinner near the Basilica under outdoor heaters, we took a vaporetto, or water bus, back to the train station—my mom's first glimpse of the city from the water. The next day was our only full day in Venice, so we planned a day trip I'd never done before. We braved the bewildering boat system and managed to get on the right vaporetto to take us to Murano Island, the island famous for its blown glass. You could spend a full day in Murano shopping in dozens and dozens of glass shops and then visiting different studios to watch the artists create their masterpieces. We spent just a few hours wandering from store to store, searching for small and affordable glass treasures that might fit in (and survive) our suitcases. I came away with an $8 bracelet that I'm very pleased with.
Then we took a vaporetto to Burano—the most colorful island in the Venetian region. It's famous for its lacework, but I was more interested in taking photos of the colors than I was in the lace. They had a huge Christmas tree in the main town square and Christmas music playing. It was an hour boat ride back to Venice, and we had a view of the sunset on the way. For dinner, we headed to Nevodi, a local favorite seafood restaurant that my tour guide recommended. We got sea bass and sea bream, and we were surprised when we were both given whole, giant fish. It was a perfect way to spend what we thought would be our last meal in Italy.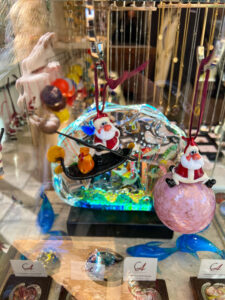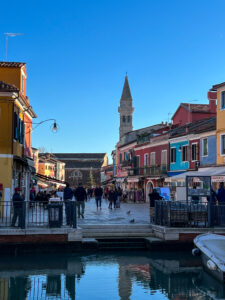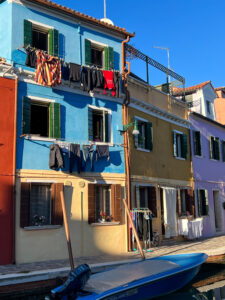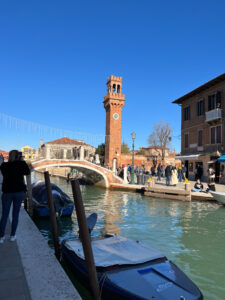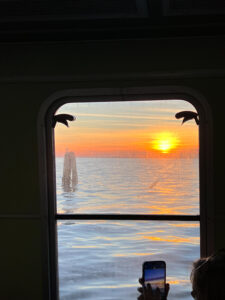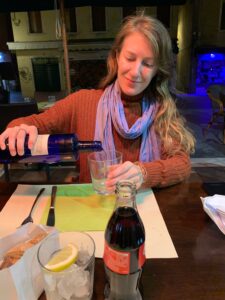 The next morning, we packed our bags, checked out of the hostel, and headed to the train station to catch our train to Vienna feeling bittersweet about leaving Italy. But at the station, we discovered that the train workers had gone on strike. Strikes are not uncommon in Italy, and you have to get creative to work around them, but I hadn't seen any notice of this one beforehand. Not only was our train canceled but ALL international trains were canceled for the day.
I tried every alternative option I could think of. I spoke with several different train company workers about options, too. I looked at all the buses running from Venice. I tried to find any way to reroute us—maybe a bus to Ljubljana and then catch a train from there? A bus to Salzburg or Graz? Or a long bus ride all the way to Vienna instead? The buses that weren't sold out already were overnight buses which wouldn't get us to Vienna that evening. A flight would have cost us hundreds of dollars. There was, quite simply, no alternative option unless we wanted to rent a car (which we did not). This was one of the only times on my whole trip when my plan entirely and complete failed. There was nothing to do but improvise and be happy with a new plan. After all, there are far worse places to be stuck than Italy.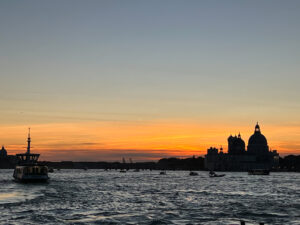 After spending two or three hours in the station trying to find an alternative route, we finally gave up and trudged back to the hostel, hoping they had a room available for an extra night. And they did—they even let us check in right away and at a discounted price. The hostel in Vienna moved our reservation back a night with no added cost, and the Airbnb we'd reserved in Prague let us cancel the first night of our stay since we'd now be in Vienna that night. They even refunded it to us even though it was past the refund deadline. Everyone was so kind.
We'd purchased a Eurail pass that allowed us 10 travel days within a 1-month period, and we'd already activated our passes that morning, so we decided to take a half-day trip to Bologna and make the most of our extra day. In Bologna, I showed my mom the main square and downtown, and we waited in line to eat at Sfoglia Rina—the best pasta in the city. In the two weeks since I'd been there, an ice-skating rink had popped up, and the Christmas season had officially begun.
What started as a stressful and chaotic morning ended up being a relatively peaceful day, and we got back to Venice and headed to bed early, crossing our fingers that the trains would be running the next day. (They were.)